Your Safety
We want everyone to have a safe and happy Pride. There are therefore a number of features in place to help this to happen. We should be grateful if you would take a moment to read this page.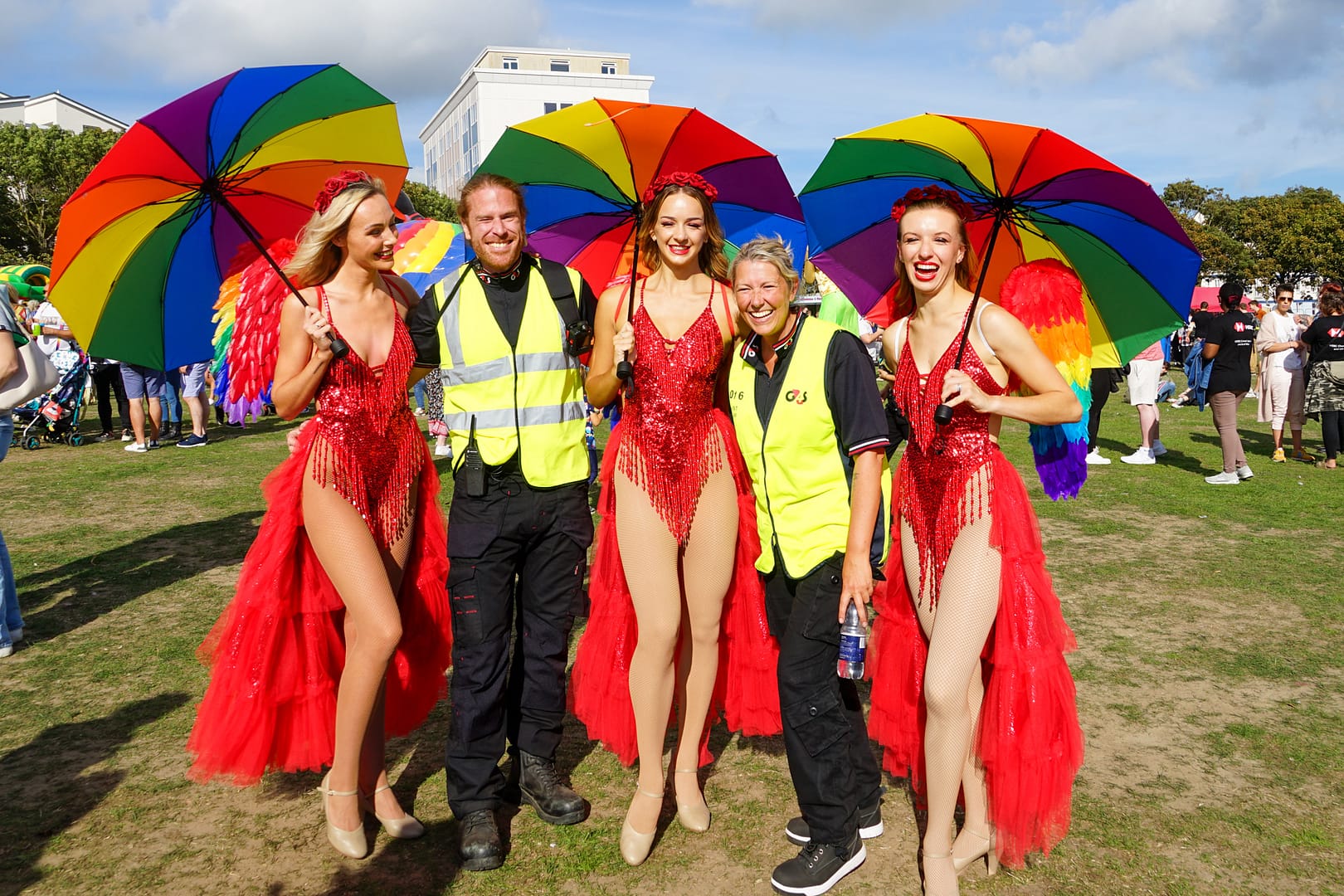 Getting there
Please think about how you arrive at Pride. We have in the past had incidents where Pride goers who were walking alone to Pride were assaulted because of the flag they were carrying.
It is a sad fact that we live in a world where this happens – which is, of course, why we need Pride, but please save your 'loud and proud' message for the parade when there will be lots of other people around you. We want you to be part of the parade, not missing it because you are hurt.
If you are walking alone to Pride and want to bring a bag to the Royal Square with your parade items in it, we can transport your bag to People's Park where you can collect it from the Liberate tent by the entrance gates. Bags can be dropped with our Accès team where Vine Street meets the Royal Square.
Alcohol
All Pride events are Drink Aware Events.
If you are drinking, please do so responsibly.
Pace yourself, drink plenty of water or soft drinks between alcoholic drinks.
We recommend you don't drink on an empty stomach, make sure you eat throughout the day.
ALCOHOL and GLASS BOTTLES may NOT be brought into the Pride Village, and will be confiscated by Event Security.
Bag searches will take place on entry/re-entry to the Pride Village. Alcohol and glass will be confiscated. This is in order that we comply with our licence for the event. Sealed cartons of juice and/or bottles of water/soft drinks are permitted.
Onsite bars will be available. Please refer to the Pride Village map for their location. The bars will operate a strict ID policy, so please bring photo ID to the event (e.g. Driving licence, Passport, YOTI).
Please be advised that entry to the Pride Village (People's Park and Victoria Park) may be refused by Event Security should you be deemed too intoxicated upon arrival. Badged security will be present with States of Jersey Police in attendance.
Drugs
Pride operates a Zero tolerance policy to DRUGS and LEGAL HIGHS; in the event of discovering users or dealing activities within the park, these shall be reported directly to the Police.
Anyone found in the possession of NOS canisters when entering the Pride Village will be refused entry.
Any person seen misusing solvents in the Pride village will be removed in line with our drugs policy.
They may also be handed to police as misusing solvents is a criminal offence If required, security shall detain the suspect and pass on all details to the police (including relevant details of the incident).
First aid
The first aid station will be situated in People's Park on the South side near the exit on the evening of Friday 15 September.
The first aid station will be situated between People's Park and Victoria Park on the afternoon of Saturday 16 September.
Lost children, vulnerable adults or property
Please show your children or any vulnerable adults in your party where the Liberate tent. This is by the main entrance (at the bottom of Westmount). This is where your child or vulnerable adult should go if they get lost, and where you should go in the first instance if you realise you have lost one of your party at Pride.
The Liberate team have DBS checked volunteers available to wait with your child or vulnerable adult.
If you find any lost property, please hand it in to the Liberate tent. If you are seeking lost property, please enquire at the Liberate tent in the first instance.
Getting help
There are a number of people who can help you at Pride.
The St Helier Honorary Police and SoJ Police will be in attendance at both the Pride parade and village.
The Liberate team will be available to assist you throughout the day and will be wearing black 'CREWPAUD' t-shirts.
The Accessibility team will be available in Vine Street ahead of the start of the parade and at disability touch-points throughout the Pride village. They will be wearing purple hi-viz jackets with the 'Accès' logo.
Our Pride volunteers will be available to assist you throughout the day and will be wearing yellow hi-viz jackets with the Pride logo.
Our security partner will have personnel stationed at the two entrances/exits to the Park and may be approached for help.
If you or someone else requires help, or you notice something suspicious or someone behaving in a suspicious way, please contact any of the above personnel to report your concerns.
Drones and photography
Drones are not permitted in or over the Pride Village unless the appropriate professional licence and insurance as authorised by the CAA is in force, due to the restrictions that would be imposed in its use over the area where a large event is taking place.
Please note that filming and photography will be taking place during Pride event and that news media may also be present.
The photographs and recordings made may be used by Channel Islands Pride, Liberate, Visit Jersey and our partners across all digital and printed platforms to document and promote Pride.
If you would prefer not to be photographed/filmed, please speak to a member of event staff.
Getting home
Please plan ahead for leaving any of our Pride events, especially if you are planning to have a drink and cannot then drive yourself.
The buses stop around 11pm, but check your route as some stop earlier.
There will be a walking crocodile from People's Park to the Weighbridge taxi rank on the evenings of Friday 15 September and Saturday 16 September for people who are concerned about walking through town at night on their own. This will leave from the South exit of People's Park.